June 13, 2016
GlobeCore is delighted to inform of yet another expansion of products.
From today representatives of road works companies can purchase RBE-0,2 bitumen sprayers. This equipment is designed for covering surface with bitumen emulsion by spraying it during asphalt repairs and maintenance of sections of small road and other objects of road facilities. In particular RBE 0,2 is indispensable at construction and repairs of parking zones, pedestrian and cycle lanes.
Main advantages of...
---
June 13, 2016
Dear customers! GlobeCore is happy to announce a completion of upgrading project of modified bitumen storage tanks SBM-15 and SBM-30.
All customers requests were considered in updated storage tanks so they are successfully used for storing of polymer modified bitumen.
Comparing with previous models new storage tanks have many advantages, the most important are:
reduced heat loss due to downwards pointing cone bottom with insulation thickness 200 mm; improvement of operational capacity from 15...
---
May 4, 2016
28 April 2016 Zimbabwe's Bitumen Emulsions Production Plant started its work with an opening ceremony.
The symbolic start was made by Transport and Infrastructure Minister Dr Joram Gumbo, who cut the ceremonial ribbon.
For GlobeCore this event was significant because the new facility is based on the GlobeCore UVB-1 plant. Other auxiliary units were manufactured locally. The total cost of this project is estimated at $...
---
GlobeCore provides customer support during design and production of equipment, and also during its operation.
GlobeCore staff periodically visits units in operation to monitor their condition and share experience. At the beginning of 2016, the choice fell on Ghana.
Transport infrastructure of Ghana is represented by railways with total length of 1300 km, and roads 39.41 thousand km in length, out of which 11,67 thousand km...
---
Starting On 18 October 2015 through 24 October 2015 presentations of bitumen emulsion equipment, produced by GlobeCore, were held in several cities in Bulgaria.
GlobeCore representatives visited the Bulgarian cities of Varna, Plovdiv, Rousse and Blagoevgrad.  It should be noted that this is not the first time GlobeCore representatives worked in cooperation with our Bulgarian colleagues.
In 2008, a GlobeCore UVB-2 type unit with a prodction capacity of 10 m3/h was commissioned...
---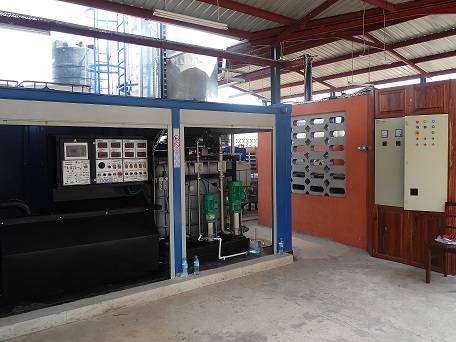 On October 4, 2014, there was a ceremonial opening of the first in Tanzania bitumen emulsion plant, fully equipped with GlobeCore equipment.
The gravity of the occasion was evidenced by the fact that the vice-president of the rural and urban road construction industry of the United Republic of Tanzania – Hassan Matimbe – was present at this ceremonial opening. He together with the representatives of the company Gratian Nshekanabo (managing director)...
---
On June 10, 2014, GlobeCore representatives visited Thailand to commission a new GlobeCore UVB unit with a capacity of twenty cubic meters per hour (20 m3/h).
The new unit is designed to prepare the water phase of bitumen emulsion production.  When the pre-commissioning was successfully completed, GlobeCore engineers held a hands-on training to teach the staff how to service and maintain their new unit.
A bitumen emulsion water phase block consists of...
---
обновлено:
July 13, 2017
автором: